Food & Drink
---
Fancy a little something while you're here?  Whether it's lunch, dinner or a snack, stunning views are also on the menu!
We're sure you'll agree that a trip to the Theatre isn't complete without a pre-show tipple, an interval treat or a post-matinee show meal to round off a fantastic day.  Here's some more info about the tasty options we've got for your visit to the Theatre.
Café/Bar
Our Café/Bar space sells hot and cold drinks, pastries, chocolate, crisps and the all important tubs of ice-cream supplied by local ice-cream maestros Stewart Tower Dairy!
We have some fantastic gin pours, a curated wine list and cocktails, as well as soft drinks to inspire.  Grab a drink before curtains up, or just grab a seat and enjoy the view, either in the foyer or laze outside on our deckchairs.
Our café/bar is open 10am – 5pm Monday to Saturday on non show days.
On show days we are open 10am – 10pm Monday to Saturday.
On Sundays we are open 12 – 4pm for matinee performances and 6pm – 10pm for evening performances.
The Riverbank Hut
We also open the Riverbank Hut in the summer, where you can grab snacks and drinks as you watch the world go by.  Open 12 noon – 8pm Wednesday to Saturday.
Festival Picnic Boxes
Our Festival Picnic Boxes  are a platter of delicious, hand-picked products to add a touch of decadence to your Theatre experience.  They're available as gluten-free and vegetarian boxes too and include treats such as:
Charcuterie assortment of Chorizo, Prosciutto Crudo and Italian Milano Salami or antipasti assortment of Falafel, Red Pepper Hummus, and Beetroot Tzatziki in the vegetarian box
British cheese selection of Double Gloucester, Blue Stilton, Somerset Camembert, Barbers Mature Cheddar and Applewood Smoked Cheddar
Walkers Highland Oatcakes
Sourdough baguette
Gourmet olives and condiments
Selection of fresh fruit and crudité vegetables
House-specialty Rocky Road or flapjack in the vegetarian box.
*Contents of boxes may change due to seasonal availability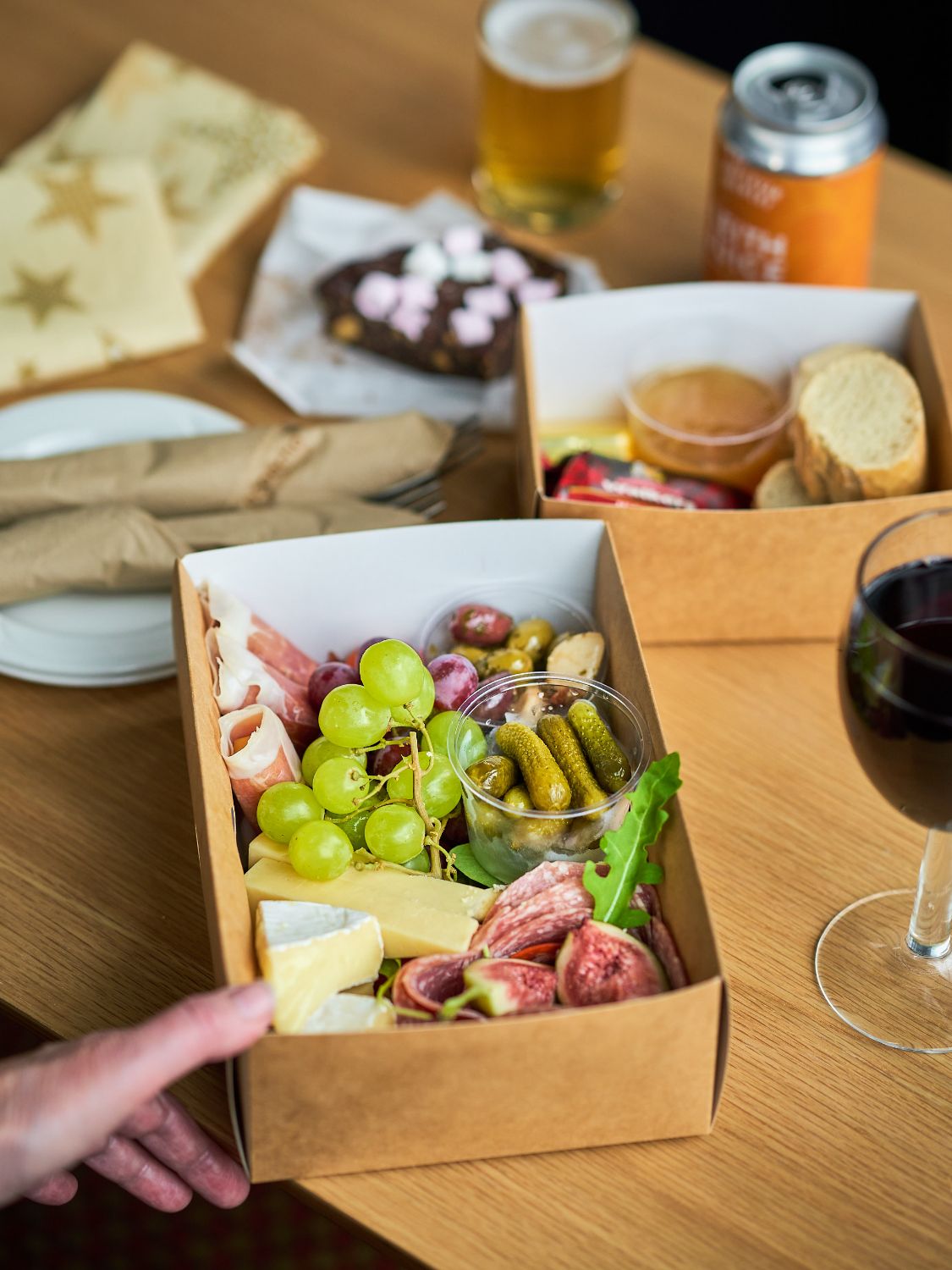 Info you need to know about our Festival Picnic Boxes:
Available 3 Jul to 30 September
Pre-order when you buy your tickets or by calling up Box Office on 01796 484626.
There are a limited number each day so make sure you book early with at least 24 hours notice.
Boxes are £12.50 per head and come in 2 or 4 person serving boxes.
Pick up your Festival Picnic Box from the Café, order your drinks, then head over to our tables overlooking the Riverbank or outside to our deckchairs on the Lawn.
Pre-Theatre Dinner
We're delighted to bring back pre-theatre dining to the Theatre this year.
Guest Chef Graeme Stewart has curated a fantastic menu for our audiences to enjoy before settling down for your favourite show.
Dates available for dining are:
Brief Encounter – Friday 21 July 2023
Gypsy – Friday 28 July 2023
Gypsy – Saturday 5 August 2023
Group Portrait in a Summer Landscape – Saturday 26 August 2023
A Streetcar Named Desire – Wednesday 30 August 2023
Brief Encounter – Thursday 31 August 2023
Group Portrait in a Summer Landscape – Wednesday 6 September 2023
A Streetcar Named Desire – Friday 22 September 2023
If you would like to join us for dinner, the price is £48 per person and can be booked at Box Office in person or by calling 01796 484626.  From Tuesday 27th June, you will also be able to book these dates when you buy your tickets for the shows.  Already have show tickets?  No problem – just call us to book instead.