Our Theatre Campus
---
Make the most of our picturesque setting, nestled between the Perthshire hills and the River Tummel
It's not just our performances that inspire the senses.
Our Theatre and outdoor venues are set in a stunning 11 acre site, bounded by inspirational mountain views and the tranquillity of the river that flows at its foot.
*** Please Note: The Explorers Garden is closed for a significant redevelopment, however it will re-open on Friday 7th July.  Further information will be posted on the website and on our social media channels.
Auditorium
Our main Auditorium opened in 1981, its design based on the original Theatre in a Tent at Knockendarroch. Over the years, we've seen Sir Ian McKellen, Honor Blackman, Sir Billy Connolly, Ronnie Corbett and Sir Michael Palin tread its boards, amongst over 500 other artists – some making their debut performance.
You'll enjoy excellent views from every part of the space, with no pillars to obstruct your view!  The acoustics are excellent throughout, so be prepared for a thrilling performance you can immerse yourself in, wherever you're sitting.
Comfortably seating 544, the Auditorium is split into two main sections, with more generous leg room available in the front half – perfect if you're one of our taller guests!
As a Theatre for All, we've prioritised accessibility in all our spaces. You'll find level access in the middle of the Auditorium, along with four accessible spaces for wheelchairs.
Studio
Over forty years after it was originally planned, we're delighted to announce that our new Studio space has opened.
Although a smaller performance place was part of the original 1970's design of the new site at Port-Na-Craig, financial restrictions meant this particular ambition couldn't be realised at the time. But the dream remained, and the designated space was held (and used as a set store) until it became a reality.
The Studio is a home for new expressive art. The space is atmosphere and intimate – so immersive, in fact, that those sitting in the front row will have their feet on the stage itself! At full capacity, the Studio can seat 172 over 2 levels. And with removable seats, it can be reconfigured too, making it an ideal space for private events.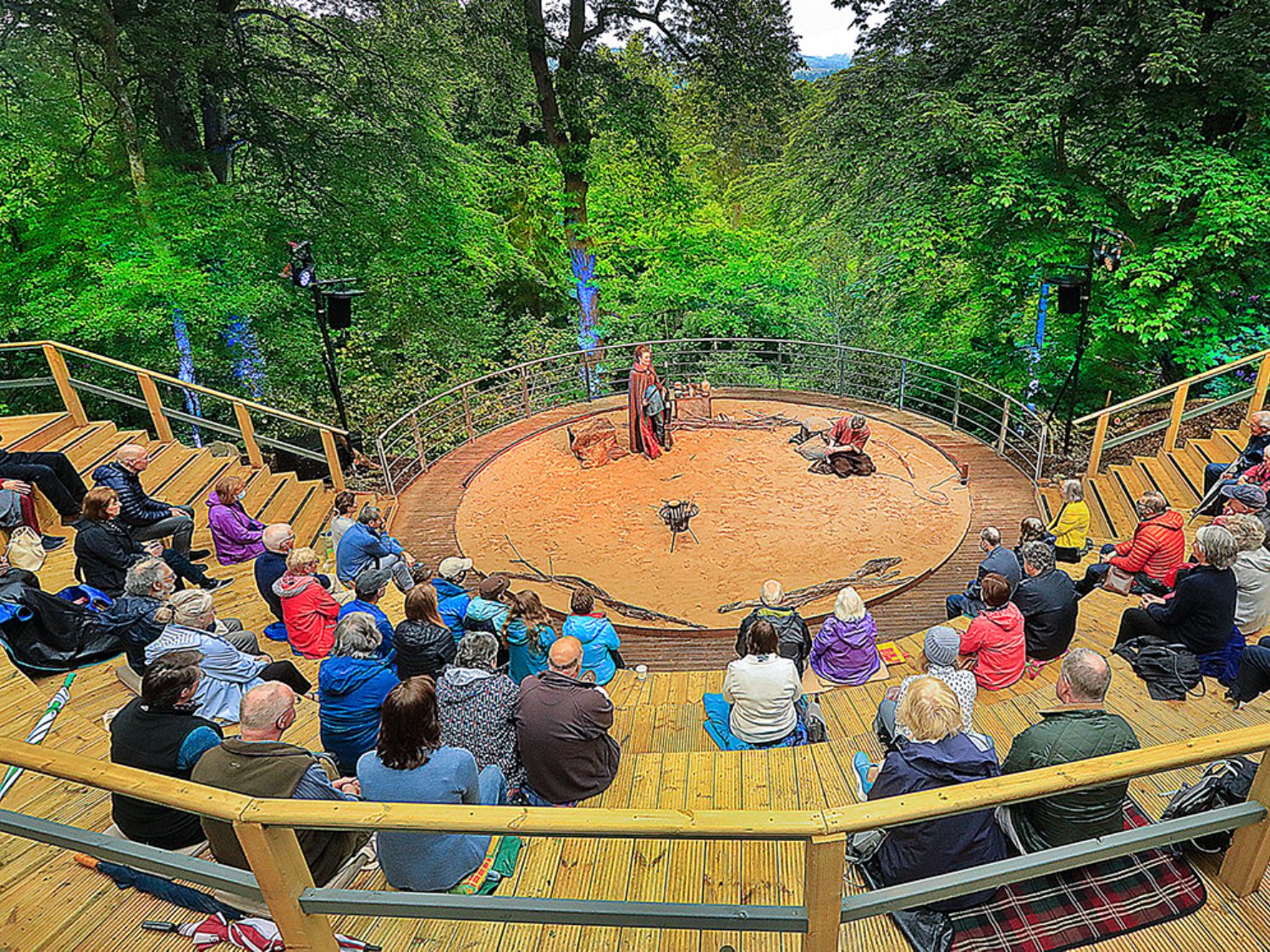 Amphitheatre
An outdoor space that makes the most of our spectacular setting, our Amphitheatre is nestled in the Explorers Garden. It has been designed to mimic both the shape and the dimensions of the Auditorium, and was conceived and built as part of the original design at the start of the 2000s.
Our artistic ambition can be summed up in three words: Inside, Outside, Online. In summer 2021 we reintroduced the Amphitheatre to our programme, giving us a space to mount much needed outdoor events. It has been hugely popular – here we've shared opera and musicals, drama, comedy and some truly magical experiences under the sun and the stars, surrounded by stunning views of Ben-Y-Vrackie.
With a maximum audience of 120, including wheelchair spaces, the space is fully accessible.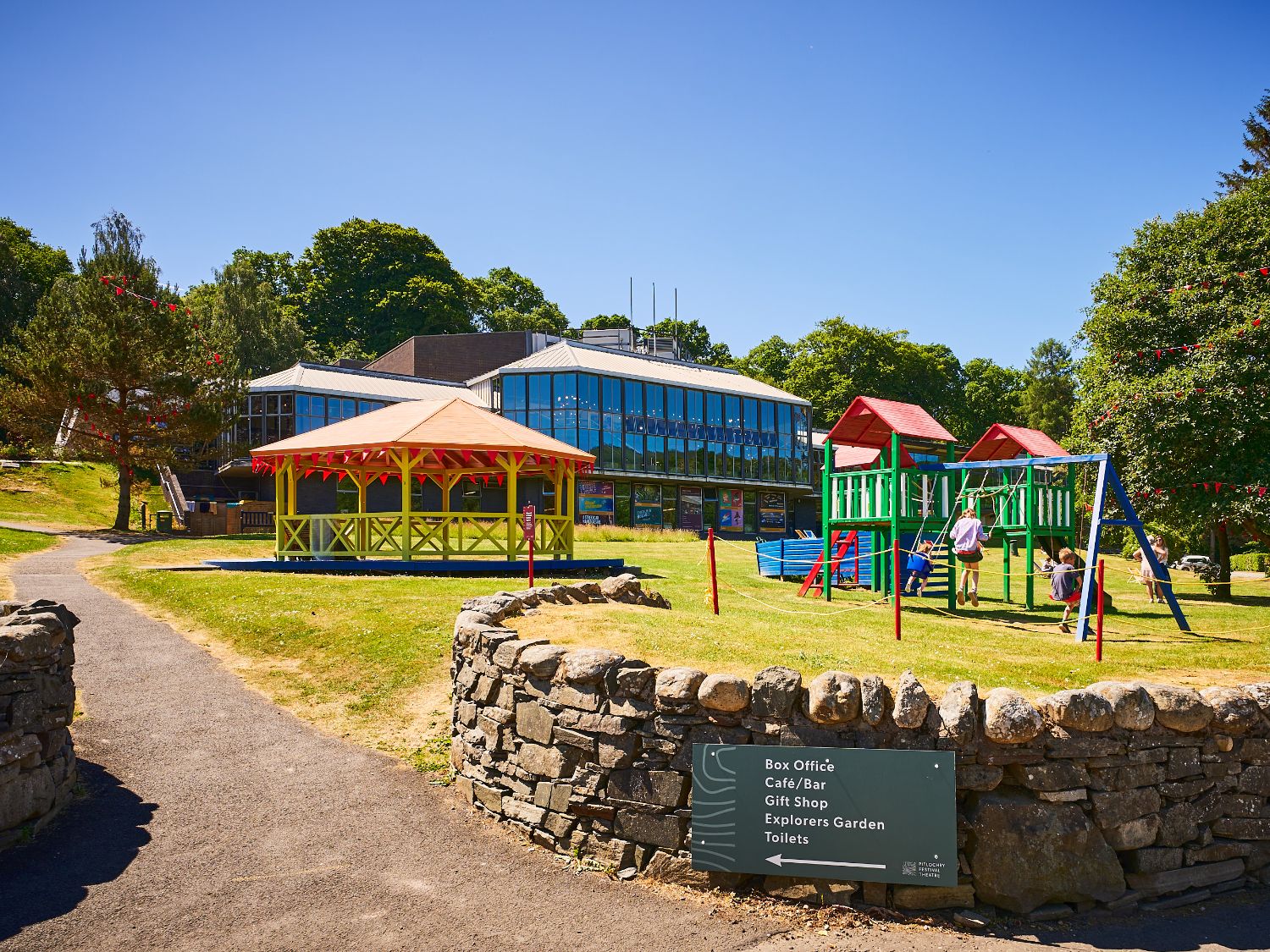 The Lawn and Bandstand
Set on the site of the original yurt gifted to the Theatre during its expansion in the early 2000's, our Bandstand was built in 2021 in response to our ambition to welcome more people and bring every corner of the campus to life.
We love this relaxed lawn space. It was inspired by the popularity of outdoor performances in the UK and is a bring-your-own picnic, chair, blanket (and sometimes umbrella) area.
With views over the River Tummel and the picturesque hamlet of Port-Na-Craig, our Bandstand is a fantastic, accessible space for families to enjoy.  2021 saw it hosting a much-loved production of The Wind in the Willows and Around the World in 80 Days in 2022.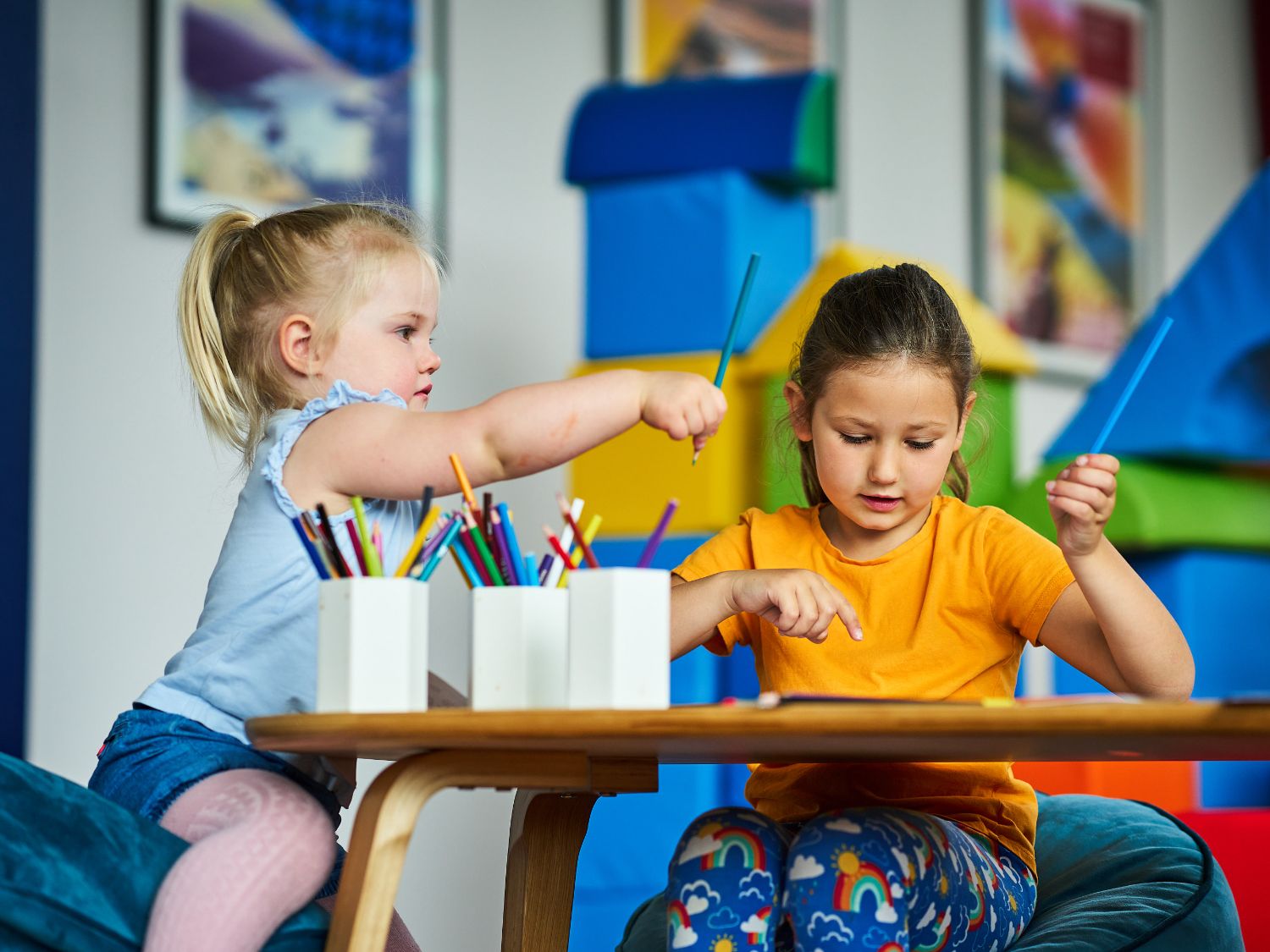 Soft Play
We have created a free Soft Play sensory space for our little people to come and have fun, while you relax with a drink, a book or a chat with a friend.  Children can play, read and colour in while you get the chance to unwind and enjoy the view.  It's open Monday to Saturday 10am – 4.30pm, but may occasionally be closed for private events, so best to check if you're planning a visit, and you've promised the little ones a tumble around!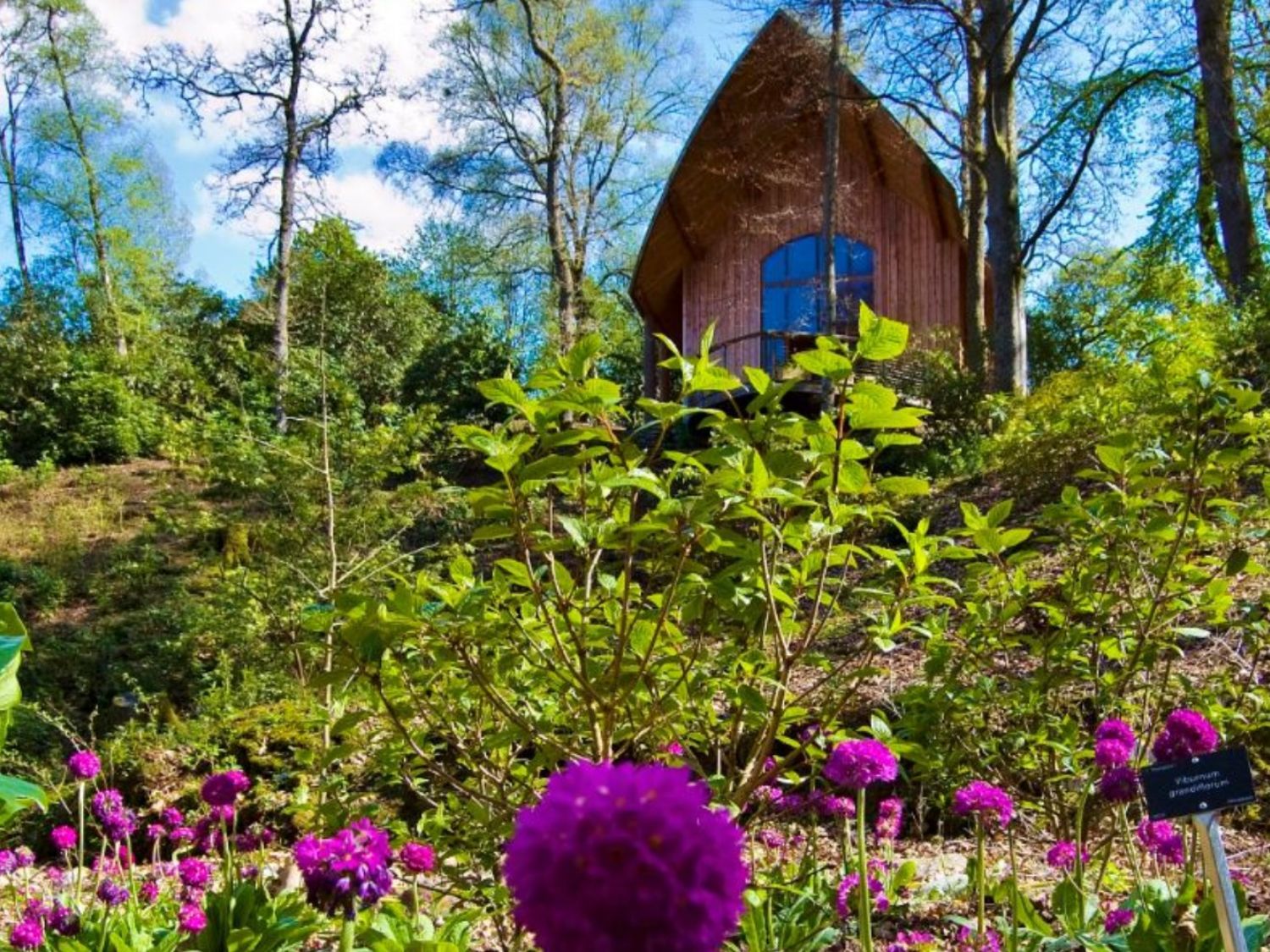 Scotland has produced some of the world's most successful plant hunters and this truly unique garden, celebrates their contribution to the way our gardens look today.
Conceived as a Theatricum Botanicum, and built in conjunction with the Royal Botanic Garden Edinburgh in the late 1990s, the Garden offers stunning spaces for art performance including the Pagoda, the Pavilion and the Amphitheatre.
The opportunity to experience art in nature, in a stunning Highland location is a rare opportunity and one for your theatre to-do list.  The Garden is also available for private events and makes a breathtaking wedding venue.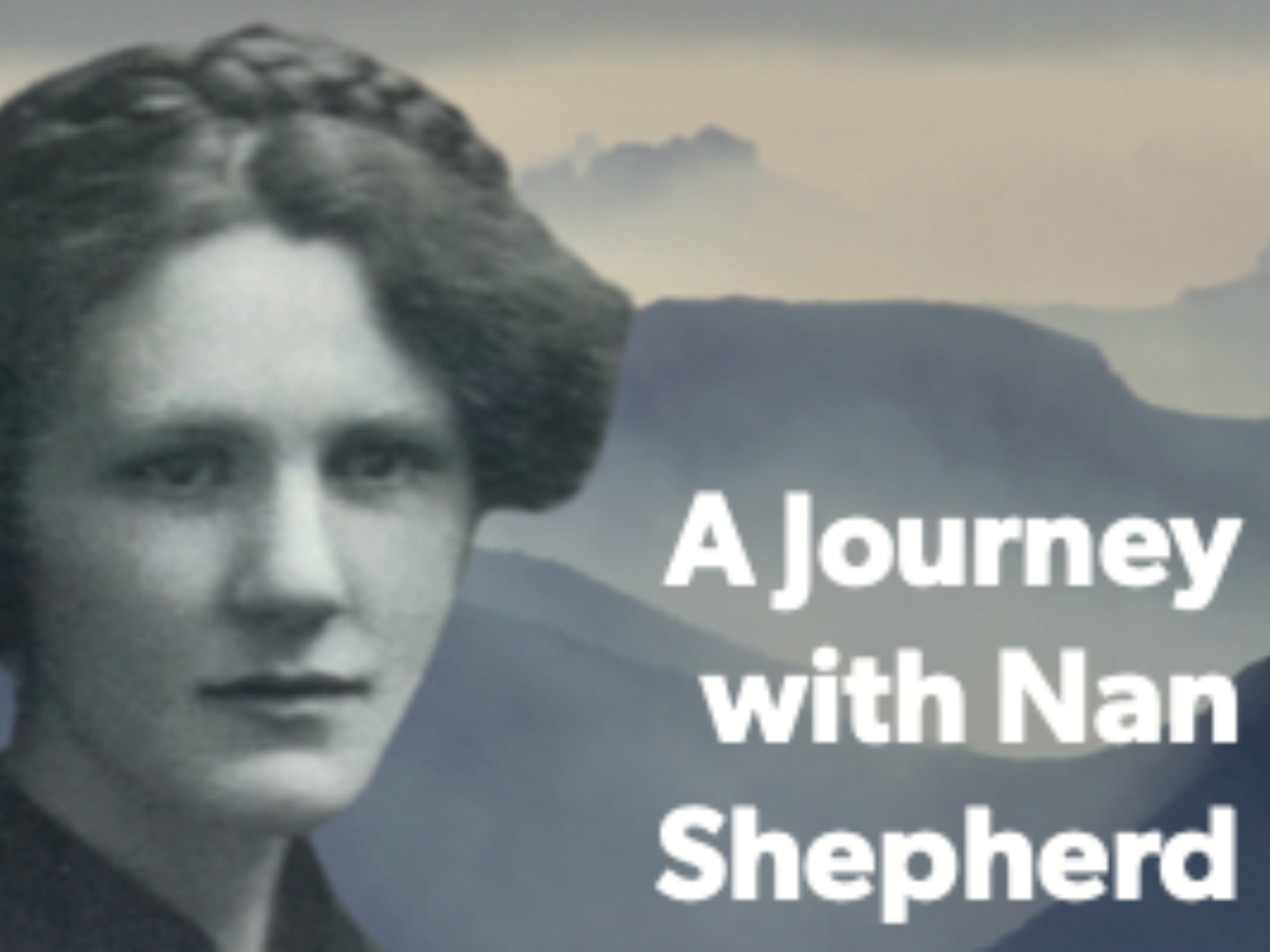 Sound Stage
Our new digital audio theatre brings you high quality new drama in whatever space you choose.  It brings the experience of attending a theatre online, using audio streaming and Zoom conferencing software, allowing you to listen to a play, meet friends in the interval and join us to hear more from the writers, directors, cast and  guests after each show.
Created in response to not being able to share theatre in person, Sound Stage has allowed us to keep in touch with our audiences and has brought new audiences to us too, from around the globe. As we follow our ambition to be Inside, Outside, Online, Sound Stage will continue to offer innovative ways in which to share inspirational new art.